I've recently started offering tarot readings on fiverr. The experience has been uplifting, and I've been able to help a number of people so far. It's very different from offering readings in person, and there are certain pros and cons of distance reading. You're unable to discuss the reading as it's taking place, and can only offer the final product. I quite enjoy this aspect, you can stay focused on the initial query and there is no distraction from further questions. You also perform a purer reading, untainted by unconscious hints and body language the querent offers. You can have a look at the fiverr page here.
How I perform an online tarot reading
Getting an order
As soon as somebody orders though the gig page on fiverr, I get an email. I reply as soon as possible  to say that I have received the request, and to give a rough timeframe. Fiverr allows extras, so if the querent has selected 1-day Delivery, I will make that reading my priority. Once this reply is set, I try to find a good period of time in the day I can dedicate to the reading.
Performing the reading
Finding time to fit readings in can be tough, but so far I have managed every reading on time. It is so much more than shuffling, dealing cards, laying them out, then typing up the reading. I like to get into a good receptive mental state before performing the reading, and I always perform readings when I am alone. Usually, the readings are simple, one or two cards, as described on the gig page. I perform my readings while sitting on the floor, though this is mainly because I do not have a table! Once the cards are dealt, I simply look at them. Intuition and knowledge of tarot cards plays it's part here. Once the cards are dealt, an image will start to form. At this stage, I'll start typing up the report.
Clearing and editing and presenting
Once the report is typed up, I'll leave it for an hour or so, and then come back to it. The reading is still in my mind, even after it has been performed, and sometimes taking a step back to observe the situation can help you see things from a new angle. At this stage, I'll edit the report and review it, as an editor would review a book. The reports I type follow a set pattern, shown below in a censored, but actual report.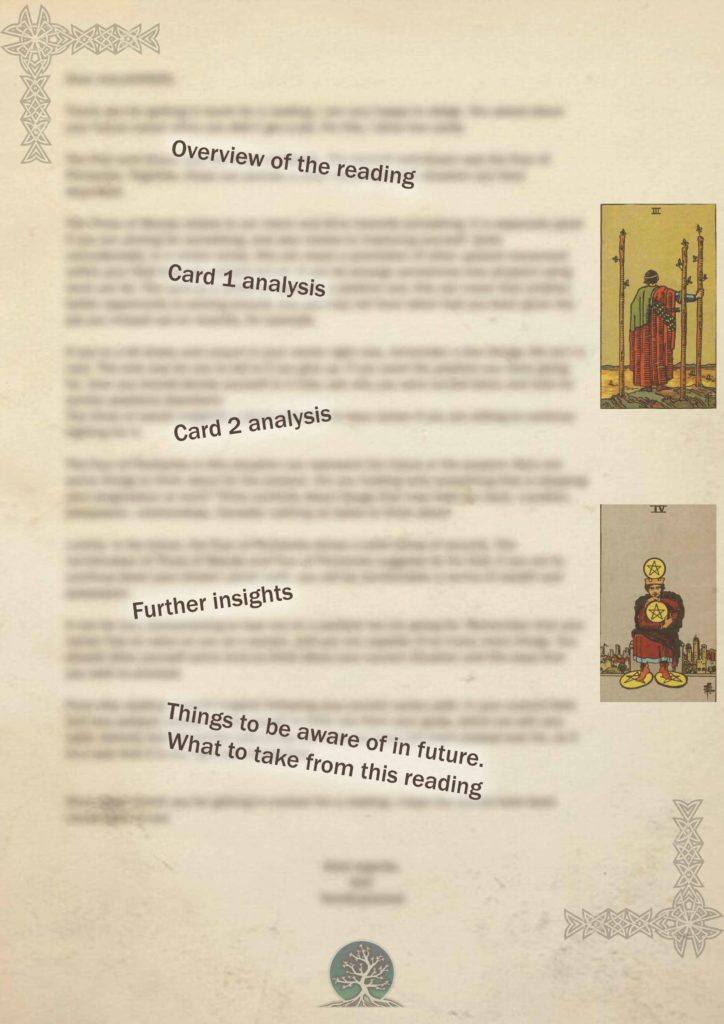 First I greet the querent, and then get started with the reading. I like to jump straight in. I make it clean I know their question, and then type how each card I draw relates to it. One thing I like to add, are missing cards or suits (if many cards are drawn). At the end, I summarise the reading into actionable steps for the querent. I like to give a sense of closure to the question.
Delivering the report and followups
I send the typed up and formatted report as an image or PDF file. It's as simple as that. For once, the technological part of something is the easiest! I like to be open to communication afetrwards and I'm always happy to discuss the reading afterwards.
Should you perform online tarot readings?
It's really up to you. If you have a tight schedule like I do, then it's a very good idea. You can still practice tarotology for real people, on your own time. I've found it to be just as good as a face to face reading, and my feedback so far has been very positive!