Halloween is a great season and a perfect time to do a Tarot reading. I love this time of year, the colours change and we all get ready to settle down for winter. With so much time spent indoors, it's good to think about the future and how the next year is going to plan out. It's good to give yourself some time before January the first rolls around to plan and think about what you want from your next year here. For now, let's focus on Halloween and a scary,  spooky tarot spread!
Witch's Pentagram Spread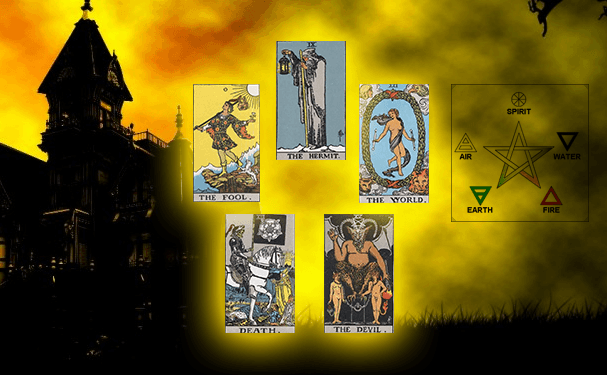 The pentagram is a symbol with many meanings. There's even a Pentacle tarot suit! The five points of a pentacle each represent a differing element. For this spread; shuffle your deck, and then place five cards face down in the pentagram shape.  Flip them over one at a time. You can start where you like. The positions represent the following:
Spirit: Something to aim for, goals and achievements. The journey to take to become what you want to be. Your ideal life.
Fire: Instinct. How to treat your current problem. What you want to do regardless of the outcome.
Earth: Something or someone keeping you grounded. A dependency you may not realise. Something holding you back.
Air: Hidden secrets. Something or someone that may be here now but not for long.
Water: An action to take to improve your life. Someone who will benefit you. Someone you can help.
Be sure to check out the card meanings for insight. Why not comment below with your results?
Want to Choose Your Live Halloween Tarot Reader?
We've selected live tarot readers to give you a FREE 3 Minute Halloween Spread Tarot Reading! Scroll through them below and pick your favorite one.
How was your Free Halloween Tarot Reading? Let us know in the comments below!
(Visited 958 times, 1 visits today)