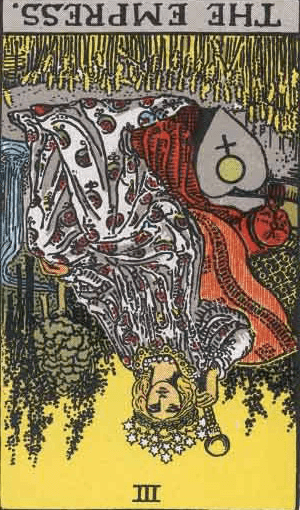 The Empress tarot card is, after The High Priestess, another card representing feminine energy from the Major Arcana Tarot. Generally in reverse; The Empress reversed could show a lack of growth in different aspects of your life, through either stagnation or lack of encouragement. Expect a period of poverty, in the sense that you will be lacking in the things which you desire. Empress tarot cards reminds you to consider if your lack of growth is being caused by your own influence, or if somebody else is putting it on you, especially somebody in authority who should be your guide and mentor.
…We would recommend speaking to a live Tarot reader to get the best understanding of The Empress tarot card reversed in relation to your life. That way, when you read the details that follow, you will be able to fully relate. You can do this with our experienced, highly-recommended experts at Keen and Psychic Source.
Get Your Free Tarot Reading Now!
The Reversed Empress In One Sentence
Stagnation, problems at home and issues with money can all be symbolised by The Empress in Reverse. Be careful when this tarot card shows up in tarot readings.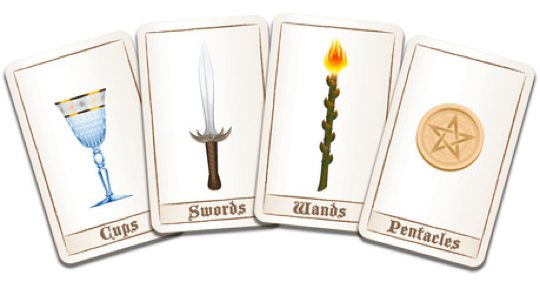 Want To Learn What The Empress Reversed Means For YOU?
Play our free tarot game
The Reversed Empress in a time-based position
Past – The Empress Reversed in the Past position can represent a negative influence in your past; likely a female influence. was there somebody in your past whom you felt has held you back? Make sure the things they have said and done aren't affecting you now. The Empress tarot card can represent an old partner. We all have experienced a bad relationship. as with any negative experience, learn, grow and move on.
Present – The Empress in reverse can represent a lot of things in your current life. As you have done the past, look out for a negative female influence in your life. Sometimes it's only when we stop to consider people that we can see their motives. Be careful it isn't you, even if you are male. Are you criticising yourself too much? Would you sometimes go so far as to say you hate yourself at times? You won't get another body or mind, so learn to better yourself.
Future – The Empress in reverse can suggest a future where you are either controlled or not fulfilling your potential. Be careful with your relationships. What might seem like a good budding start of a healthy relationship may soon dissolve into an emotional mess. When the empress appears you have to start accepting your flaws, many of them will be self-perceived.
The Empress Reversed in regards to life issues
Work / Education – The Empress in reverse can represent an overbearing boss, teacher or workload that may be a bit too much for you. If things are less than professional, then be sure to report them. You shouldn't have to tolerate bullying at school or work. Be sure you're getting credit for what you've done.
Romance – The reversed Empress is not a good sign for romance out of the tarot cards to pick. You have to trust your instincts, even if a situation has arisen that seems to be good for you. being pursued by more than one person might sound good, but it's very likely that someone's emotions will be hurt in the process. It's likely something wild might happen soon, so be ready for it, especially if you are single. It might be memorable, but in any case, take care.
Friends – The Empress in reverse can represent that overbearing friend and a lack of balance in who you are spending time with. If you have multiple groups of friends, try exploring the one you are less comfortable with. You might find some people with interests you can bond over. It's surely worthwhile to try.
Money – The reverse Empress when representing money can mean you need to watch how you are spending your money. Be sure you're saving enough, but also be mindful that you aren't spending too much on something self-destructive; someone else, an expensive hobby or folly, to name a few. There may be financial issues ahead when the empress appears so be prepared.
Health – The Empress in Reverse has been known to strongly represent pregnancy or lack thereof. If you are planning on getting pregnant, then consider the outcomes. If you aren't planning, then be sure to take extra care. It's a big commitment. Be sure you are always in control of your body. Take care of it.
Spirituality and Mentality – As with the Empress drawn upright; The Empress in reverse still has the wisdom of an experienced mother within her, so now might be a good time to discuss your spiritual beliefs with others; particularly an older female. Getting advice doesn't mean you have to follow it.
The Empress Upright – Major Arcana
Keywords for Reversed The Empress:
Financial issues, being held back; stagnation, infertility
Other associations of Reversed The Empress – Major Arcana
Element: Earth
Astrology: Venus
As a Yes or No question:  In a yes or no tarot card reading, the empress reversed symbolises no
How was your Free Tarot Reading? Let us know in the comments below!
(Visited 17,825 times, 4 visits today)