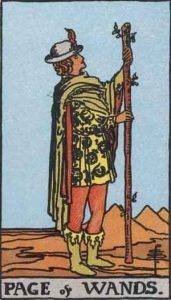 The Page of Wands is the eleventh card in the suit of Wands and the first face card. As it is a face card, it could represent a real-life person, even someone that you know; likely a younger male influence in your life. The illustration on the Rider-Waite deck shows the Page inspecting a wand, well dressed and standing in front of a barren desert landscape.
Below, you will find details of the meanings of The Page of wands tarot card. But first…
…We would recommend speaking to a live Tarot reader to get the best understanding of The page of wands tarot card in relation to your life. That way, when you read the details that follow, you will be able to fully relate. You can do this with our experienced, highly-recommended experts at Keen and Psychic Source.
Get Your Free Tarot Reading Now!
Page of Wands in a sentence
The Page of Wands represents potential adventure, creative endeavors and starting up anew.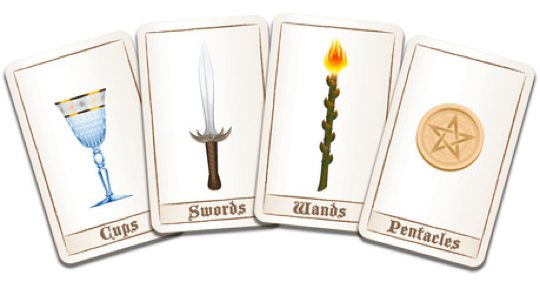 Want To Learn What The Page of Wands Means For YOU?
Play our free tarot game
Page of Wands in a time-based position
Past – The Page of Wands tarot card in the Past position can represent, specifically, a person in your past who has affected your life. Likely a male, he had an adventurous and energetic personality. Maybe this was something you were jealous of. It can also represent the recent completion of something you were proud of, that is opening new doors for you. As childhood goes, the Page of Wands can represent you, seemingly more mature than others your age, you might have given yourself a good jump start in life.
Present – The Page of Wands in the present position is a good sign, that good news is coming. Are you looking to do something completely new? If so, you're likely to do something memorable very soon. You might find that life changes very soon, whereas before you were on a path, you might have just reached the destination now. Instead of feeling aimless, you should follow wherever your passions take you.
Future – The Page of Wands tarot in the future position can suggest a new leaf, a completely new paradigm for your life. Don't worry if you're currently enjoying your life, it's only going to get better. Expect an open, free future, where only your choices determine your actions. If you are particularly afraid of something, make a point to address this in a long term goal. A rewarding way to live life is to analyse your fears, and then adapt these into goals. The more you confront a fear, the more you will change the feeling of fear into the feeling of opportunity.
The Page of Wands in regards to life issues
Work / Education – The Page of Wands tarot card in regards to work or education is a good sign. It's likely that a woman will help you somehow, in the sense that she'll be able to 'put in a good word' for you if there's something you're going for. Consequently, now is a good time to apply for jobs or placements. You might have finished training for something just in time for you to be able to put those skills to use soon.
Romance – The Page of Wands in romance is a very good sign. Expect a new level of deep connection in any existing relationships. The Page of Wands is an especially good sign when it comes to finding love. If you're available and looking, expect to find somebody who you'll fall head over heels for. They'll just seem 'right' for you. All in all, The Page of Wands is a great sign for finding love. Expect a new type of relationship, spontaneous and exciting.
Friends – The Page of Wands tarot card in regards to friendship means things are going well. It might be a good time to make some younger friends, or join a club more suited for younger people. If you can, try to get some more female friends, or friends with female interests. It may be an influence that is lacking in your life currently.
Money – The Page of Wands in regards to finances is another good sign. Are you looking for work or have things taken a bad turn? The Page of Wands is a good sign, even more so if you've been putting your own money and time into a project. Look into ways you can lead the way with your creativity. You might have a revolutionary idea that you've previously discredited that really is worth working on; maybe a business idea or new career direction for yourself.
Health – The Page of Wands tarot echoes the young, fresh nature of the card when health is concerned. It's a case of knowing what is right for your body and mind, and then doing those things. You know how to eat well, you know how to exercise, you know what to avoid. It's just a case of putting these things into practice. A role model will be a good thing to have right now. think of someone living your perfect life, and aim for it.
Spirituality and Mentality – The Page of Wands in spirituality is good when spirituality is concerned. It'd a good time to start something creative, even if you have no idea what you want to do. Jump in. Throw some paint against a canvas, go wild without any rules. Everything is open and free, and the only restrictions you should have right now should be to your dependants, if any.
The Page of Wands Reversed
Many of us have no clear direction in life, and the Page of Wands reversed reflects this feeling of aimless progression. You might feel you have a lot of wasted potential, or a lot of energy that is currently being wasted by not having a goal. You need some time to figure out your goals, and you need to do this alone without outside influence and to spare yourself any potential conflict. Your goals should be yours, and not restricted by what somebody else believes. Don't put anything off, remember that time old saying; the best time to plant a tree was 20 years ago, the second best time is today. Look into what you want to put in, and get out of life, and start today. Not tomorrow. Life will only work with you if you allow it ad give it the correct conditions to grow.
Keywords for the Page of Wands
Optimism, excitement, good news from afar, freedom
Other associations of The Page of Wands
Element: Fire
As a Yes or No question: Yes
How was your Free Reading? Let us know in the comments below!
(Visited 58,368 times, 7 visits today)