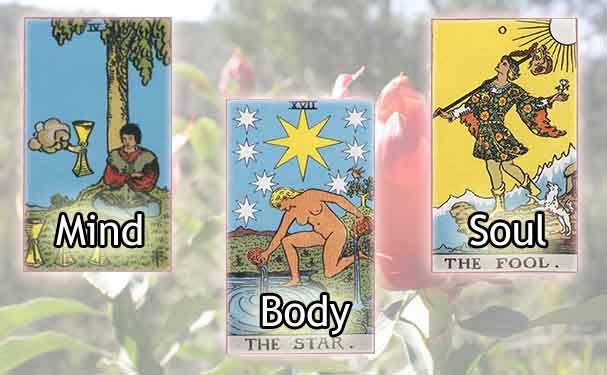 'Mind', 'Body' and 'Spirit' are a trinity that makes up your whole being. 'Mind' represents how you perceive the world and your state of mind. 'Body' represents the physical world and how it affecting you. 'Soul' represents your desires; sometimes hidden, sometimes not. If you're feeling stuck in a rut, this Mind Body and Soul Spread is a good one to do. It may give you a different perspective on what is really affecting you, and what your true desires are.
Start with a clear mind and shuffle the deck. Draw three cards and place them face down in front of you in a line. Turn over the leftmost card, this is Mind. Then work your way along to Body and Soul.
Want to Choose Your Mind Body and Soul Spread Tarot Reader?
We've selected live tarot readers to give you a FREE 3 Minute Mind Body & Soul Reading! Scroll through them below and pick your favorite one.
The following tarot readers from Kasamba have been rigorously scrutinized and tested. We can confirm that they are REAL Tarot Readers who will offer accurate predictions and detailed answers for you. Select one of them below and get a free Mind Body and Soul tarot reading with:
FREE 3 minutes chat + 50% discount!
[psv-kasamba-psychic-readers count="15″ category="10379″]
New clients only. Credit card required.
How was your Free Mind, Body & Soul Tarot Reading? Let us know in the comments below!
(Visited 3,365 times, 1 visits today)