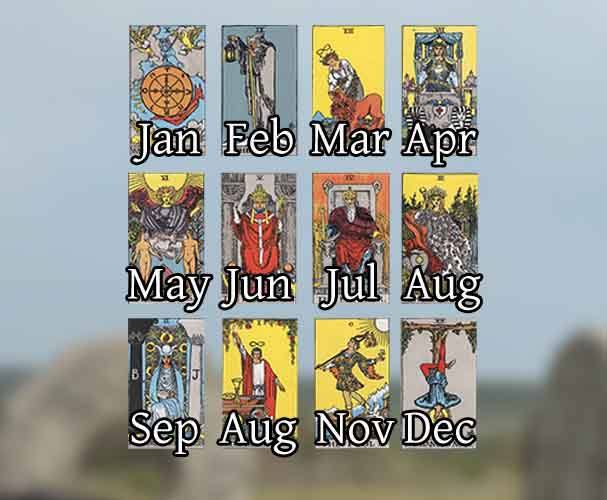 This Twelve Month Spread is a good spread to do towards the end of a year to get some ideas about how the next will treat you. Each card represents a month in the coming year. Usually, we look back and say "this or that month was a great month". This 12-month spread is designed to make you think about the year ahead and its potential ups and downs.
As always, start without distractions, shuffle the deck and place the cards face down into the grid pattern. One by one, lift up each card and think about what it could be telling you. Be sure to check the card meanings. Turning over each card in the sequence is important at first. You don't want to be distracted by a stronger card later on and focus on that. Each month in your life is as important as any other, even if you feel nothing happens. Look at the positions of the cards and think about what events they can link up to. Are you graduating soon? Or perhaps you're expecting a new job or a move?
When you have laid out the 12 cards, do not change them. Look up the meaning from either the major arcana, swords, cups, pentacles or wands.
Want to Choose Your Live Twelve Month Tarot SpreadReader?
We've selected live tarot readers to give you a FREE 3 Minute 12 Month Tarot Reading! Scroll through them below and pick your favorite one.
How was your Free 12 Month Spread Tarot Reading? Let us know in the comments below.
(Visited 4,429 times, 1 visits today)