Happy Autumn, and now that the autumn equinox has passed, it's all downhill from here! I'm only joking. Autumn is a time to calm down and start finishing the things you started earlier in the year. In this case, I wanted to write about tarot in popular culture months ago, and I've only really just gotten around to it.  To start with, we'll briefly discuss the tarot symbolism of Alejandro Jodorowsky's 'The Holy Mountain'.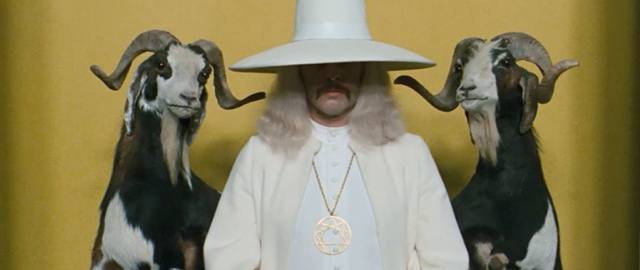 If you are one for spotting hidden symbolism and meanings, the Alejandro Jodorowsky's 'The Holy Mountain' is a brilliant film to watch. Tarot plays a prominent role in the film both as an element of the story as well as clearly inspiring the designs of the characters. To try and actually describe The Holy Mountain is difficult; as a surrealist film the narrative is rather disjointed and sometimes difficult to watch, but it's sprinkled with extremely memorable scenes which you'll think about for days.
In the above scene, The Alchemist character uses the tarot deck as an allegorical tool of transformation for the story of the fool figure, whom eventually grows into a Christ-like figure, following the journey of the fool. The meaning of the Magician card and Hermetic concepts are described effortlessly in one line, with the bull and the vulture. This is one of the earlier scenes in the film, and forms a basis for the following story, introducing ten characters that are all essentially aspects of the whole main character.
Alejandro Jodorowsky still studies the tarot; he wrote a book on it and saw it differently to how it is usually portrayed. Not happy with the tarots use as a divination tool, he treated it more as a psychological aid. Interestingly, he combine cards in order to better understand them. Jodorowsky considers only one deck to be pure, the Tarot de Marseille, and all others to be derivative, each new tarot deck release losing the original meaning of the cards, until you end up with something like a tarot deck based off a TV show. It's true that this opinion is shared by many, but as with many aspects of tarot, there is no objective truth.
In future we'll be looking at more tarot inspired films, music and books!  Have you read a book or seen a good film that features Tarot symbology? Comment below!
(Visited 1,339 times, 1 visits today)